BENQ GS1 Portable Projector WXGA 300 Lumens DLP with WiFi & Bluetooth Support For Outdoor Family, White with Warranty
In Stock

Brand: BENQ
Product Code:

BENQ-GS1

Product viewed:

1012
Including VAT

Special price:

AED1,649.00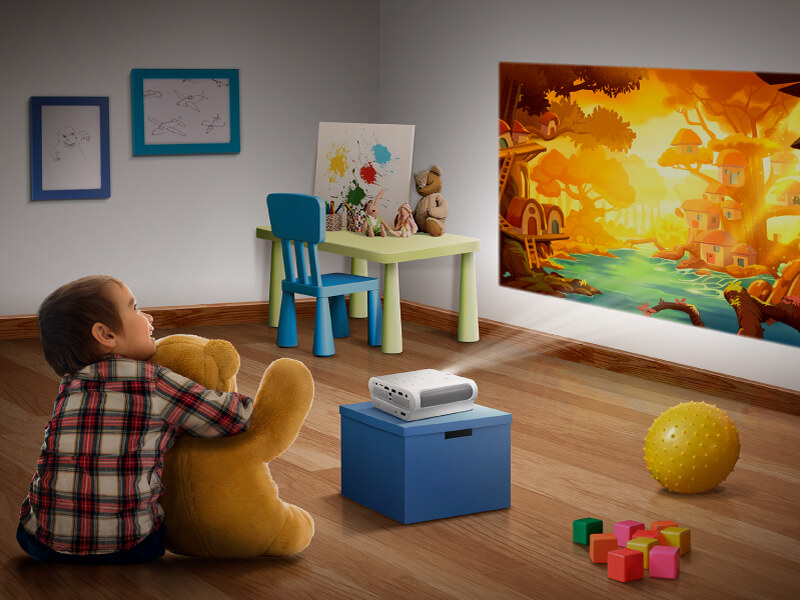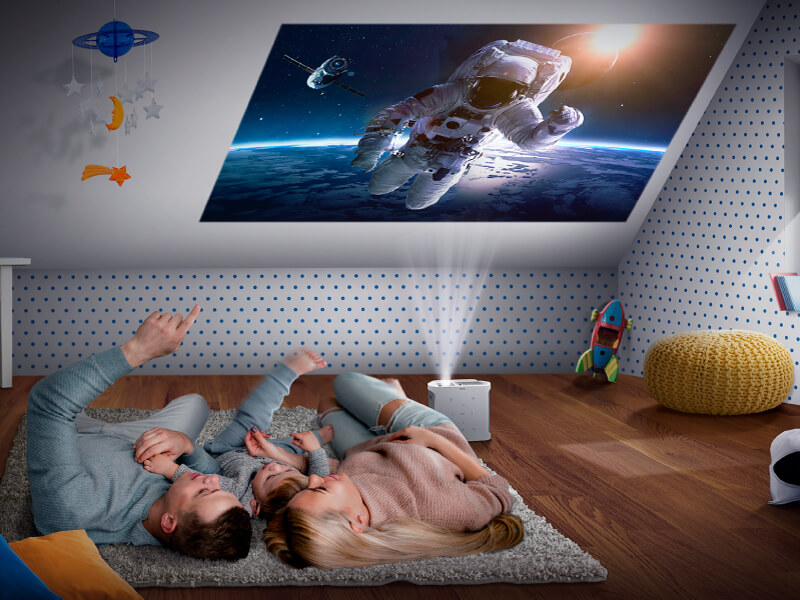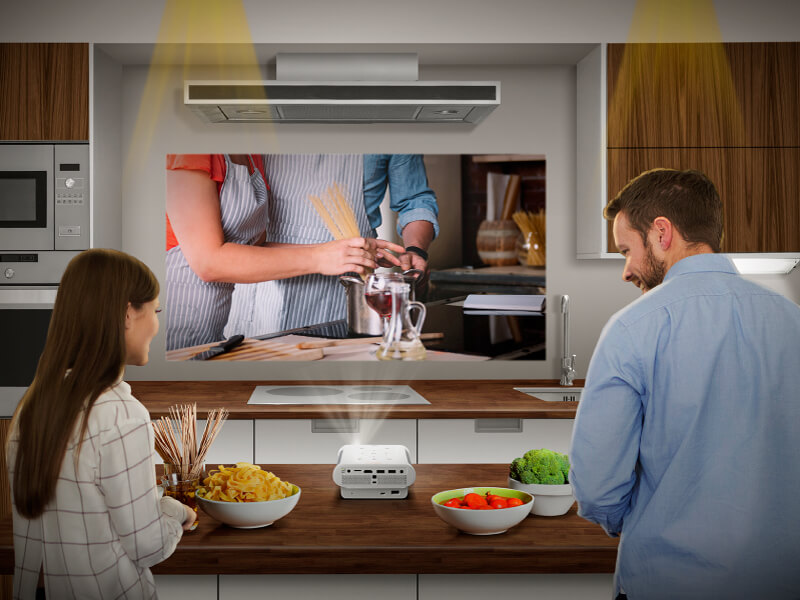 Compact, Palm Sized to Take Anywhere
GS1 is small enough (13.9cm x 14.6cm) to fit onto the palm of your hand. Perfect for busy households, GS1 takes virtually no room yet provides big pictures anywhere. Weighing less than 1kg including the battery, GS1 is a super portable big screen, able to project larger-than-life images over 120" anywhere you bring it.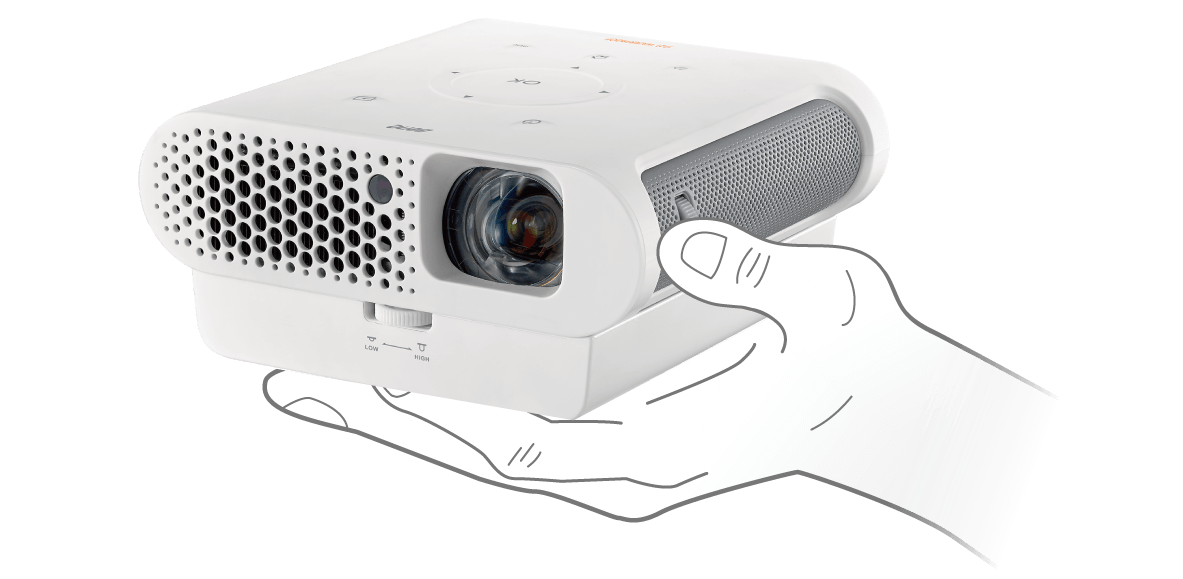 Unlimited Cable-Free Movies and Videos
Built in USB Readers for Untethered Enjoyment
GS1 offers built-in USB 3.0 and 2.0 readers to instantly play movies, music, and videos without a separate PC or Blu-ray player. Simply plug in a flash drive and enjoy high definition multimedia content with friends and family.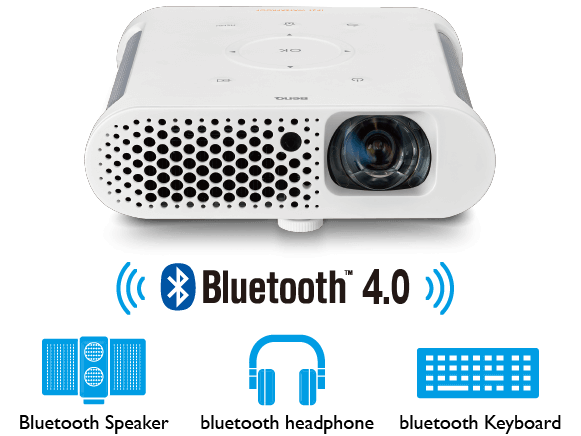 Connect Any Bluetooth Device
You can connect speakers via Bluetooth 4.0 for thrilling audio without wires. Kids can even enjoy a movie during a quiet evening with their own Bluetooth headphones, or connect a keyboard and mouse to play games in style.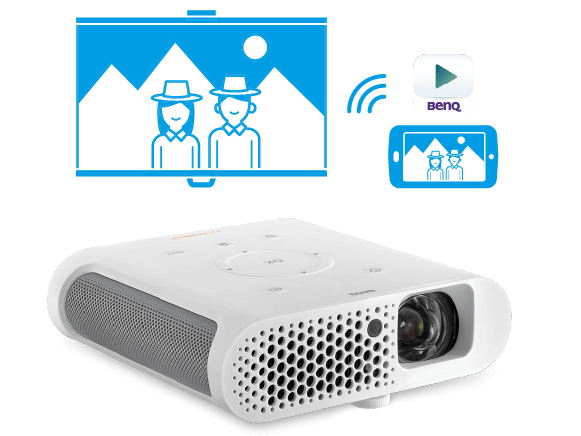 Play Your Favorites with BenQ Video Tray
Integrated BenQ Video Tray App easily manages favorite YouTube videos at your fingertips. Instantly bring favorited clips from popular and trending videos, music, news, cooking, travel, fashion, and more to the big screen!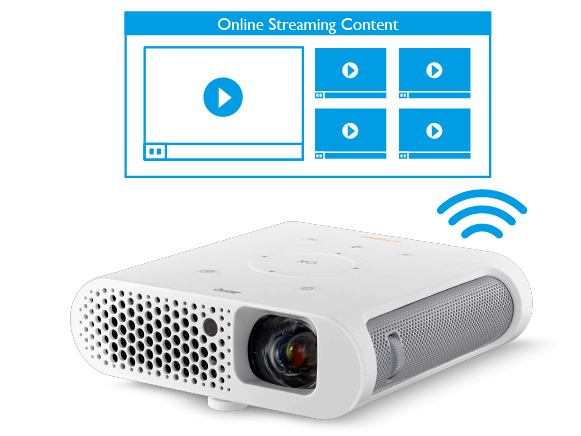 Instantly Stream Online Content
GS1 keeps even the fussiest teenagers happy with built-in WiFi for instant online sharing and streaming. Everyone can easily access their preferred content on a grand scale, ideal for when your family goes on the road.

Specifications:

Brand

BENQ

Model

GS1

Color

White

Resolution

720p (1280x 720)

Brightness (ANSI lumens)

300lm

Contrast Ratio (FOFO)

100000:1

Display Color

1.07 billion colors

Native Aspect Ratio

16:9

Light Source

LED

Light Source Life (Normal/Eco/SmartEco)

Normal 20000 hours

Economic 30000 hours

Picture Mode

Bright/Camping/Vivid Color/Movie/Office/User ‎

Optical

Throw Ratio: 0.8 (80"@1.4m)

Zoom Ratio: Fixed

Lens: F=1.5, f=5.53mm

Projection Offset: 102.5%±2.5% ‎

Projection Size (Clear Focus / Maximum): 30''~ 200"


Keystone Adjustment: 1D, Vertical +/- 40 degrees

Speaker

2W x 2

Wireless

Wi-Fi: Yes, 2.4G Single band, 2T2R‎

Bluetooth: Yes, Bluetooth 4.0

Compatibility

Resolution Support: VGA (640 x 480) to Full HD (1920 x 1080)

Resolution Details

Resolution Support: VGA(640 x 480) to WUXGA_RB (1920 x 1200) *RB = Reduced Blanking

Horizontal Frequency: 15K~102KHz

Vertical Scan Rate: 23~120Hz

HDTV Compatibility: 480i, 480p, 576i, 576p, 720p, 1080i, 1080p

Video Compatibility: NTSC/ PAL /SECAM

3D Compatibility‎: Frame Sequential: Up to 720p 60hHz

Frame Packing: Up to1080p 24Hz

Side by Side: Up to 1080i/p 60Hz

Top Bottom: Up to 1080p 60Hz

Power

Typical Power Consumption: 45W

Standby Power Consumption: <0.5W

Power Supply: AC 100 to 240 V, 50/60 Hz

Dimensions (W x H x D)

146mm x 139.2mm x 46.5mm (without battery)

146mm x 139.2mm x 65.7mm (with battery)‎

Weight

Projector: 0.57 kg (1.26 lbs)

Battery: 0.4 kg (0.88 lbs)‎